Read Time:
2 Minute, 38 Second
NEW DELHI :
BHARATIYA Kisan Union Spokesperson Rakesh Tikait on Wednesday said the 'Rail Roko Andolan' would take place on Thursday from 12 pm to 4 pm across the country. Tikait told IANS that the Central Government was not permitting many trains to ply for the last eight months despite the fact that many other restrictions had been removed by the Centre. Due to this people were facing many difficulties. Tikait said the people from their villages would be taking part in the 'Rail Roko Andolan' on Thursday.
The 'Rail Roko Andolan' has been announced by the Sanyukt Kisan Morcha. Rlys deploys 20 additional RPSF companies: THE Railways has deployed 20 additional companies of the RPSF across the country, with focus on Punjab, Haryana, Uttar Pradesh and West Bengal, in the wake of the "rail roko" called on Thursday by farmer groups protesting against the Centre's new agri laws. The Samyukta Kisan Morcha (SKM), an umbrella body of protesting farmer unions which is spearheading the protest, last week had announced the rail blockade to press for its demand to repeal the legislations. Director General, Railway Protection Force, Arun Kumar on Wednesday said, "I appeal to everyone to maintain peace. We will be liaisoning with district administrations and will have a control room in place." Farmers at Singhu border have demanded a judicial inquiry into the January 26 incident and the role of the Delhi Police regarding the matter. A member of the Bharatiya Kisan Union (BKU) told IANS that the panel of farm leaders looking after the legal issues has demanded a judicial probe by an independent committee of a retired Delhi High Court or Supreme Court judge.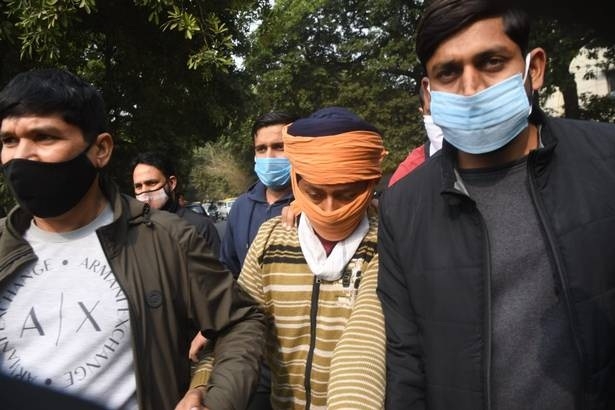 R-Day violence: Man seen swinging swords at Red Fort arrested
NEW DELHI :
A 30-YEAR-OLD man allegedly seen swinging swords with the intent of "motivating" and "energising" protesters at Red Fort during the violence on Republic Day has been arrested, police said on Wednesday. Maninder Singh, who runs a sword training school near his home in Swaroop Nagar in north-west Delhi and works as a car AC mechanic, was arrested around 7.45 pm on Tuesday near the C D block bus stop in nearby Pitampura, police said.
"Singh was seen in a video swinging two swords at Red Fort with the intent of motivating or radicalising and energising violent anti-national elements indulging in brutal assault and attacking police persons on duty with swords, 'khandas', iron rods, axes, 'barsaas', sticks etc and damaging the historical Red Fort on Republic Day," Deputy Commissioner of Police (Special Cell) Pramod Singh Kushwah said in a statement. Over 120 people have been arrested so far in connection with the violence across Delhi on January 26, officials said. One held for attacking SHO at Singhu border, fleeing with his car: Police: A MAN has been arrested for allegedly attacking an SHO of the Delhi Police and fleeing with his car at the Singhu border, where farmers are protesting against three new agriculture laws of the Centre, officials said on Wednesday. The incident that resulted in minor injuries to the officer took place around 8 pm on Tuesday, they said.